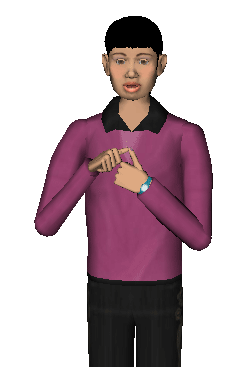 For Signing Math & Science, TERC and Vcom3D used SigningAvatar® assistive technology to develop illustrated, interactive 3D standards-based sign language dictionaries that offer students in grades K-8 and 9-12 who are deaf and hard of hearing increased access to the same learning opportunities that hearing students enjoy. Video versions are available free from this page by clicking the links below or the links at the top and bottom of this page. The video versions are compatible with Mac, Chromebook, and a wide variety of platforms and web browsers and with iPads. The dictionaries are also available from iTunes as iPhone Apps.
Signing Glossaries for use in informal STEM Learning Environments are available free from Apple's App Store and the Google Play Store. A prototype Signing Bioscience Dictionary (SBD) for use in undergraduate sign language interpreter programs has been developed.
Ongoing work focuses on Increasing Undergraduate Student Interpreters' American Sign Language Biology Vocabulary, Content Knowledge, and Interpreting Ability and on development of a starter set of STEM Workforce Stories for Adolescents Who Are Deaf or Hard of Hearing.
Publications are available from this link. Evaluation Reports are available from this link.
For additional information about Signing Math & Science, contact us.
© 2020 TERC. All rights reserved.